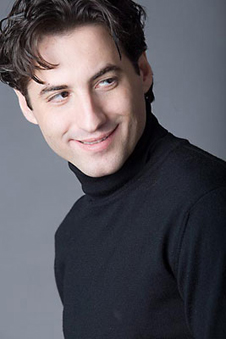 From the moment he takes the stage, Grammy Award-nominee violinist Philippe Quint captivates his audience with his charismatic presence. Mr. Quint is often lauded for a "searingly poetic lyricism" (Daily Telegraph, UK) in repertoire that ranges from Mozart, Beethoven, and Brahms to the leading composers of our time.
Mr. Quint plays a 1723 Antonio Stradivari "Ex-Keisewetter" violin on long term loan to him from Mr. and Mrs. Arrison through the generous efforts of the Stradivary Society in Chicago.
Mr. Quint was born of a rich musical heritage in St. Petersburg, Russia; his mother, Lora Kvint, is celebrated as one of Russia's most well known popular composers. Mr. Quint left the former Soviet Union in 1991 and is now an American citizen who harbors a strong commitment to the music of his new country, frequently performing works by William Schuman, Lukas Foss, Leonard Bernstein, Ned Rorem, John Corigliano, Erich Wolfgang Korngold, and Lera Auerbach. Mr. Quint's impressive discography to date includes William Schuman's Violin Concerto (Naxos 2001), a debut album that received two Grammy Award nominations including "Best soloist with an Orchestra." This album was selected as "Editor's Choice" by both Gramophone and Strad magazines. In addition to his recording of Bernstein's "Serenade" with Marin Alsop for Naxos in 2005, which was selected as CD of the Week by the UK's Daily Telegraph, and Editor's Choice by Gramophone he has also recorded Lukas Foss's complete works for violin and piano (Elysium 2003) with Maestro Foss at the piano. His latest recording, was released in May 2006 on Naxos, is of Ned Rorem's Violin Concerto with the Royal Liverpool Philharmonic /Jose Serebrier.
In January 2007, Mr. Quint recorded the complete works of Miklos Rosza for violin and piano with the noted pianist William Wolfram (Naxos). Upcoming recording projects include the Korngold Concerto, Corigliano/Thompson Recital and Paganini/Kreisler arrangements(NAXOS).
Mr. Quint has been in wide demand, both domestically and internationally; recent concert engagements include the Detroit, Indianapolis, Minnesota, Bournemouth (UK), Houston, Nashville, and Virginia,Omaha, Alabama Symphonies; the Royal Liverpool (UK), Buffalo, Louisiana, and Oklahoma Philharmonic Orchestras; the China National Symphony; the Orpheus Chamber Orchestra; and the Mostly Mozart Festival, under the batons of renowned conductors Marin Alsop, Andrew Litton, Klauspeter Seibel, Kurt Masur, Hans Graf, Arild Remmereit, Maxim Shostakovich, JoAnn Falletta, Jorge Mester, Carlos Miguel Prieto, and Kenneth Schermerhorn. Mr. Quintís highlights next season include returns to the Bournemouth Symphony (Saint SaÎns Concerto No. 3), the Indianapolis Symphony (Glazunov Concerto), and the Louisiana Philharmonic (Lera Auerbach Concerto No.1). He will tour South Africa and South America and Australia in the 2007/2008 season.
Reviewing a recital by Mr. Quint at Carnegie Hall's Weill Hall, New York Times critic Allan Kozinn wrote: "Quint has power, breadth of tone and passion." (October 10, 2003) A recent critique by The Chicago Tribune hailed Mr. Quint: "What a terrific soloist the young Russian born American violinist Philippe Quint makes! Here is a fiddle virtuoso whose many awards are fully justified by the brilliance of his playing". (July 29, 2001) "A Legend in the Making," was one critic's prediction, while "flawless," "dazzling," "extraordinary", and "astonishing" are only a few adjectives awarded him by the press. Mr. Quint studied at Moscow's Special Music School for the Gifted with the famed Russian violinist Andrei Korsakov, and made his orchestral debut at the age of 9, performing Wieniawski's Concerto No. 2. After emigrating to the United States, he earned both Bachelor's and Master's degrees from Juilliard and was graduated in 1998. His distinguished pedagogues included Dorothy Delay, Cho-Liang Lin, Masao Kawasaki, and Felix Galimir. He has also studied and participated in masterclasses with Isaac Stern, Itzhak Perlman, and Arnold Steinhardt. Having won myriad awards since his days as a student, Quint has amassed top prizes at the Juilliard Competition ('98), Spain's Pablo de Sarasate International Violin Competition ('97), where he also received the Special Audience Prize, and the Salon de Virtuosi Award ('97). He has been a Career Grant recipient of the Clarisse B. Kampel Foundation since 1996 and the Bagby Foundation since 2002.
More information on Mr. Quint may be found at his website at www.philippequint.com