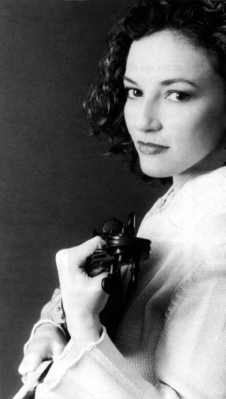 Violinist Nurit Pacht was selected as one of the "Stars of the Year 2000" by Le Monde de la Musique and since then her career has blossomed with appearances in London's Wigmore Hall, Vienna's Musikverein, Moscow's Great Hall, Washington's Kennedy Center, Carnegie's Weill Hall, The People's Hall of China in Beijing and at Ravinia's Rising Stars Series. Chosen by director Robert Wilson to be the featured musician in his multi-media piece Relative Light   featuring solo violin works by John Cage's and J.S. Bach, Nurit is equally at home in the standard repertoire as in the contemporary.  
Nurit performed in duo recitals with Philip Glass playing the composer's works for violin and piano.   She commissioned and premiered works from other leading composers including, Michael Hersch, Noam Sheriff, Annie Gosfield and Octavio Vazquez.
In the spring of 1996, immediately following the cease-fire, she concertized in six of the worst war-devastated cities of Bosnia to enthusiastic audiences of the three ethnic minorities, with the sponsorship of the United Nations and the European Mozart Foundation. At the invitation of the European Commission she also performed on the occasion of the inauguration of the European Monetary Union in Bruxelles. She was heard at the festivals of Santa Fe, Mecklenberg Vorpommern, Divonne, Stresa, Kfar Blum, George Crumb, Tartini, Monadnock and, at the invitation of Christoph Eschenbach, performed in Ravinia's Rising Stars Series.   One of her live performances from Wigmore Hall was released by Nimbus records.  
Nurit Pacht grew up in Texas and made her first solo public appearance on national television at the age of 12.   In 1990, at age seventeen, she made her U.S. solo debut with the Houston Symphony Orchestra and has since won top prizes in international competitions in Europe and the United States, including the Tibor Varga International Violin Competition in Switzerland.   She plays on a violin made by P. Guarneri in 1750.  More information on Ms. Pacht may be found at her website at www.nuritpacht.com