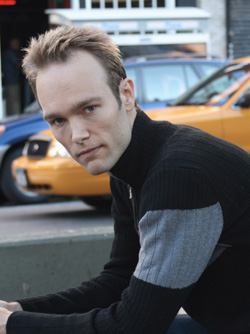 According to The New York Times, Paul Haas "is surely on the brink of a noteworthy career." Time Out New York calls him a "visionary". He is the Music Director of the Symphony of Northwest Arkansas (SoNA), and his guest conducting engagements have included performances with the Orchestra of St. Luke's, San Antonio Symphony, the Rochester Philharmonic Orchestra, the Fort Worth Symphony Orchestra, and the New World Symphony, among others, as well as festival appearances. Recently, Paul's performance with the National Symphony Orchestra and Itzhak Perlman as soloist caused the Washington Post to write:
"The young conductor Paul Haas was all about fresh thinking and visceral engagement. His musicmaking…revealed a keen musical mind and an impressive feeling for the natural pulse and trajectory of a score... Haas's sensitivity to rhythmic and dynamic gradation, and his ability to marry heartfelt expression with disciplined playing from the NSO...would have been impressive in a conductor three times his age. If Thursday's concert was an accurate barometer of his talents, Haas is headed for a significant podium career."
As former Music Director of the renowned New York Youth Symphony, which performs regularly at Carnegie Hall, Mr. Haas and the NYYS were awarded the ASCAP-League of American Orchestras Leonard Bernstein Award for Educational Programming, the first and only time that coveted award has ever been presented to a youth orchestra. Recently, Mr. Haas was selected out of hundreds to perform in the League of American Orchestras' prestigious National Conductor Preview.
Haas also enjoys an active composing career. He conducted the premiere of his "Matthew Says" for orchestra, chorus, and two violin soloists at Carnegie Hall in 2007 and has premiered nine other orchestral pieces of his in New York City during recent seasons. San Francisco-based Hope Mohr Dance commissioned a large-scale score by Haas, premiering the work ("The Unsayable") in March 2011. Recently, New York Magazine singled out Haas as one of the "New New York School" of composers.
In addition to his orchestral engagements, Haas is the founder and Artistic Director of Sympho, a trailblazing concert production company that creates powerful and emotional musical experiences, collaborating with leading artists and using unexpected performance methods and unorthodox venues. "Refits the Classical Experience for a New Century," proclaimed The New York Times headline for Sympho's first concert. "Something momentous has occurred," raved the San Francisco Chronicle. And Symphony Magazine declared, "Something important was happening, something with emotional stakes."
In February 2011, Sympho and Haas created a critically-acclaimed concert event for the opening night of the Park Avenue Armory's Tune-In Music Festival, ranked by New York's WQXR FM as the "Top New Music Event of 2011". Upcoming events include a site-specific concert commission for Ann Hamilton's Tower, an 80-foot sculpture and performance venue in Sonoma County, California, whose past performances have featured the likes of Kronos Quartet and Meredith Monk.
Paul Haas is a graduate of Yale University and The Juilliard School, where he studied conducting as a Bruno Walter Fellow with Otto-Werner Mueller. His other conducting teachers include Michael Tilson Thomas and Leonard Slatkin. He also studied opera conducting in Dresden, Germany, at the Hochschule für Musik. Haas currently resides in New York City with his wife and daughter. For more information, please visit his website.