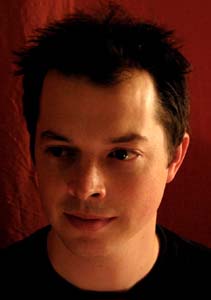 Paul Fowler is an active concert composer, improviser, producer, and vocalist. His musical life has led him across many genres, collaborating with artists from diverse walks of life in multiple styles of art-making. Whether he writes music on paper, creates it on the computer, or improvises it entirely, it is always an exploration of the universal experiences of the human spirit and its path through time.
Fowler's childhood was occupied with performance, either on musical stages throughout Wisconsin or in skateboard competitions around the Midwest region. Before beginning college he had toured Europe with a professional choir, won an NFAA Arts Recognition Award in musical theater, and had photos in Thrasher magazine. At Ithaca College, Fowler performed leads in operas, was a soloist with the Syracuse Symphony, composed music for film and dance, and played jazz piano in venues around town. After completing his masters in composition at the University of Michigan, Fowler ended up in Taos, New Mexico. There he played jazz, conducted the community chorus, composed, and began the study of the most modern musical instrument: the computer.
After cutting his first record, "Photograph," produced by Grammy nominee, Robbie Parrish, Fowler became interested in learning the technology that brings most music into the world. By the spring of 2007, he put this knowledge into use as associate producer for "In the Blood" by Native American artist and Grammy winner, Robert Mirabal. At present, the Mirabal band is touring with Fowler playing keyboards, singing, and improvising loops on his laptop. By 2008 he plans to complete a self-produced album of originals and begin work as a live laptop artist, manipulating live recorded sources in real time, using solely his computer and the sound of each new moment.
As a composer, Fowler is dedicated to seeking out subject matter that is as resonant with the audience as it is with the artists performing it. His orchestral work, "Tapu'at," takes an ancient Hopi labyrinth as inspiration, describing the emergence of one world - or life - into the next. The work was commissioned by a collection of young, emerging artists, bringing about the next world of music - the New York Youth Symphony. In 2002, Young Concert Artist Naoko Takada commissioned "Michiyuki" for her Kennedy Center debut. The piece is a "narration" of the final scene from the famous puppet-play by Chikamatsu, The Love Suicides at Sonezaki. For Taiwan's Ju Percussion Group, Fowler created a film from four Charlie Chaplin shorts and asks the ensemble to act as the traditional silent film narrator, or benzi, of early 1900s Taiwan.
Fowler's music has been heard in Japan's Suntory Hall, the National Concert Hall of Taiwan, the Belgium International Marimba Festival, the Borealis Festival of Norway, the Kennedy Center, and Carnegie Hall, among others. He's received the First Music Award, ASCAP Morton Gould Young Composer Award, Louis Smadbeck Composition Award, and an Honorable Mention in the Swan Composer Award.