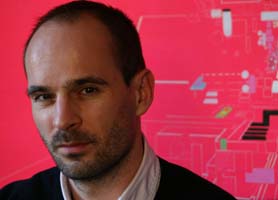 A rising star of the visual arts, Romain Erkiletlian is a Paris-born artist who has shown his works in galleries and art fairs in Europe and the US, with solo exhibitions in Rome, Munich, and New York.
For several years, he has created series of works that are intimately related to each other. In each series, subjects or landscapes are manipulated and altered into varying degrees of abstraction, resulting in fantastical and phantasmagorical universes only tangentially related to reality. Currently, he has been developing a body of work based on Japanese urban landscapes, in which photographs of sites are reordered and recycled, resulting in simultaneous breaches and unions of space and time.
He now lives and works in New York City.
For more information, please visit www.erkiletlian.com.